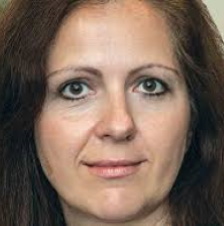 Anastasia Titarchuk just moved up to permanent chief investment officer and deputy comptroller of New York State's $216 billion CRF fund after three years as Deputy CIO and a year as Interim CIO.
NYSCRF is the county's third-biggest public pension fund after CalPERS and CalSTRS in California.
We have a revealing Q&A with her just below; but first here's some context about CRF, which doesn't usually get as much ink as the big West Coast funds.
Investment Performance
Here are the latest multiyear returns for these three mega-pensions and CRF hold its own very well on a comparative basis. (CRF has a non-standard fiscal year, but we have helpfully stated all figures as of June 30, 2019.)
For 2019, CRF tops both the Californians with 7.1 net return.
Over 10 years the New Yorkers were a close second to CalSTRS, with 9.8 percent vs. Chris Ailman's 10.1 percent.
Investment Performance NYCRF, CalSTRS, CalPERS
[Click "read more" below for charts and complete report]
Only Mr. Ailman at CalSTRS was CIO for a whole decade (now approaching two decades!).  Ms. Titarchuk was interim CIO for all of 2019.  And, of course, Mr. Meng at CalPERS is the newbie, in office for only the last six months of the 2019 fiscal year.
Funded Status
A very big deal for public pensions is an actuarial number called funded status, which other institutional investors don't have to think about.  The calculation depends on some tricky estimates, and opinions differ about what's a healthy number.  But higher is always better.
A recent Milliman Study of 100 major U.S. pensions found that only 11 have a funded status over 90 percent, and NYSCRF is one of them, with an enviable 94 percent as of 2018.
Good investment performance can help improve this number, but it's only one factor.  Still, a low funded ratio tends to attract attention in a not-good way and can cast a pall over the whole system.
Read More »