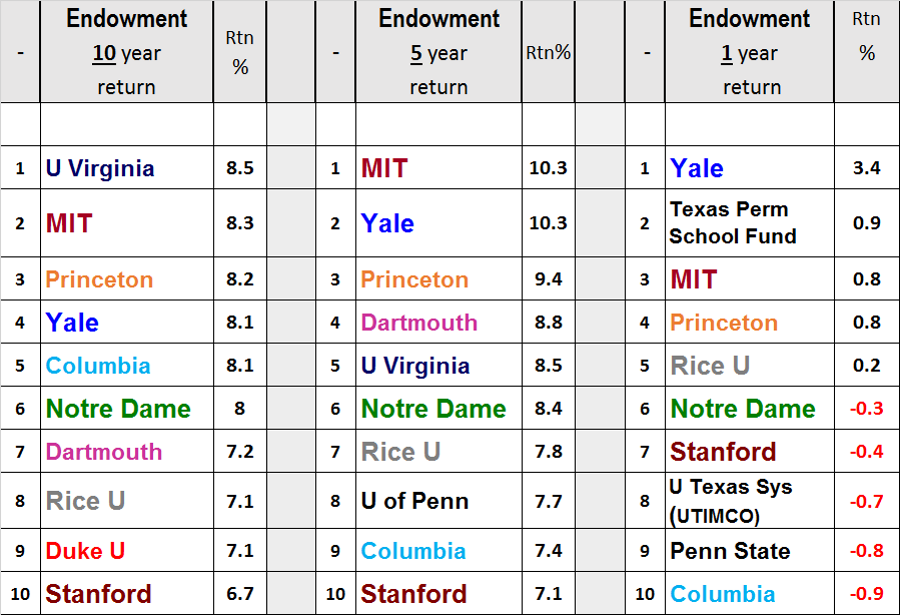 "Persistence of returns" is a phrase we associate with hedge funds.  It seems debatable whether there is any such persistence there.  Hedgies say there is; others are not so sure.
In the case of endowments and chief investment officers, however, it's a verifiable phenomenon.
The chart below incorporates the latest numbers and lists the top-ten endowment performers (out of our Top 25 cohort) for 1, 5, and 10-year periods as of June, 2016.
What is remarkable is how the same funds tend to show up across the board, even in the more volatile 1-year numbers.
Seven funds – MIT, Princeton, Yale, Columbia, Notre Dame, Rice, and Stanford – show up in each table.  Dartmouth and Virginia both make two out of three (neither of them quite made the cut for 1-year returns).  Notre Dame's consistency is uncanny: they rank 6th out of 10 on all three.
Rice's consistent excellence may have been slightly unexpected.  It's a Southern, non-Ivy school with "only" a $5.3 billion endowment; but it has outperformed Stanford and most of the Ivys in each measurement period.  Good work by Allison Thacker's Rice Management Company.
Read More »